West Coast Beaches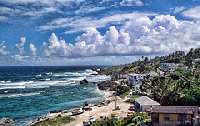 barbados © scaturchio
Western Barbados is known as the 'Platinum Coast'. North of the capital, Bridgetown, visitors will find many splendid beach resorts beside the Caribbean shore's warm, clear waters.
Beaches such as Batts Rock, Paynes Bay and Mullins Bay are popular for swimming and sunbathing. Treasure Beach is a splendid hideaway with a reputation for fine Bajan cuisine and luxury accommodation.
All things considered, leisure seekers will relish a trip to this tropical paradise.