The Prado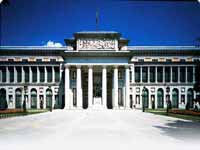 West facade of The Prado, Madrid © Turespaña
One of Madrid's most famous attractions is the 19th-century Prado Museum, one of the world's greatest art galleries, with more than 7,000 paintings that include masterpieces by Fra Angelico, Botticelli, El Bosco, Titian, Rembrandt, and Velazquez. The museum began as a Royal collection, which succeeding dynasties have added to. The collection naturally focuses on the Spanish masters, particularly Goya, whose exhibited works fascinatingly follow the development of his painting from the sun-soaked early scenes of joyful festivities to the grim madness characterising his 'black period'. The Prado has few equals - and whether you are an art lover or not, you should check out this magnificent Madrid attraction. The collection is vast so cater at least a few hours to really be able to appreciate it. There is a cafe and restaurant in the museum, as well as a gift shop and bookshop. Tickets can be booked in advance online, allowing the prepared to skip entrance queues. Guided tours are available, but groups wanting a tour must make reservations at least 24 hours in advance. Audio guides are available for hire in multiple languages. No photography is permitted in the galleries.
Address: Paseo del Prado.
E-mail: museo.nacional@museodelprado.es
Website: www.museodelprado.es
Telephone: +34 913 302 800
Opening times: Monday to Saturday 10am to 8pm, Sundays and holidays 10am to 7pm.
Admission: €15 (general); €7.50 (reduced).