Monastery of San Lorenzo de El Escorial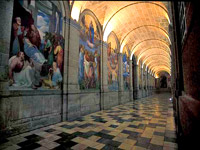 Monastery of San Lorenzo de El Escorial ©
Topped by four spiral towers, the huge granite edifice of the monastery is a foreboding sight in the town of San Lorenzo de El Escorial. About 30 miles (50km) northwest of Madrid, El Escorial was a marriage of Roman Catholic power and Spanish. Once a monastery and a royal palace, this UNESCO World Heritage Site was completed in 1584 and took almost 21 years to build. The complex was built by Philip II as a memorial to his father, Charles V, as a summer residence and as a final resting place for Spanish royalty. The complex is similar to the Alcazar of Seville and the Alhambra of Granada in layout, but the architectural style and decor is far more austere. It also operates as a gallery with paintings and tapestries, containing works by El Greco, Hieronymus Bosch, Titian, and Tintoretto. Additionally, a magnificent vaulted library, covered in frescoes, contains a priceless collection of more than 60,000 ancient manuscripts. No photography is permitted in the complex. El Escorial is best explored on a guided tour or with the audio guide as the basic ticket doesn't grant access to as many areas and the majority of textual explanations are in Spanish.
Address: Calle Juan de Borbon y Battemberg
Telephone: +34 918 905 903 or +34 918 905 313
Transport: Bus 661 and 664 from Madrid, or the Madrid-El Escorial train
Opening times: Tuesday to Sunday from 10am to 6pm (until 5pm between October and March)
Admission: €12 (unguided). Guided tours and audio guides available for extra cost. Concessions available.