La Sagrada Familia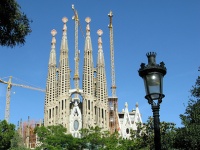 La Sagrada Familia © laura padgett
Designed by modernist architect Antoni Gaudi, the bizarre Sagrada Família is one of Catalonia's most intriguing landmarks. Building started in 1882, but it remains unfished and an object of controversy. Gaudi worked on what was considered his masterpiece until his death in 1926. The structure imbues his characteristic Art Nouveau style and creates a unique interpretation of the Gothic architectural tradition. Gaudi had models and plans for the completed church were mostly destroyed during the Spanish Civil War and those leftover have been disputed since. The extraordinary building is a UNESCO World Heritage Site, and is fascinating even to those who don't find it beautiful. The church has been consecrated and is used for religious services. When it is complete it will have 18 towers and is expected to be the tallest church in the world. The anticipated date of completion is 2026 (the centenary of Gaudi's death) but this may prove ambitious. The two completed facades of the church, the Nativity Facade and the Passion Facade, are very different but both incredible, and the roof of the nave is one of the most stunning features. Visiting the church is an absolute must for travellers in Barcelona.
Address: 401 Calle Mallorca.
E-mail: informacio@sagradafamilia.org
Website: www.sagradafamilia.org
Telephone: +34 932 073 031
Transport: Metro to Sagrada Familia stop
Opening times: Daily from 9am to 6pm. Opening times may change to accommodate events.
Admission: Basic €17, Gaudi House Museum €5.50, and Familia and Towers €32. Concessions available.