Tibidaboa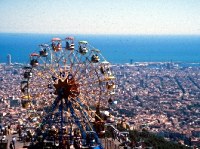 View From Tibidabo ©
Barcelona's second landmark hill is Tibidabo, about four miles (6km) northwest of the city in a wooded range that forms a backdrop to the urban landscape. Tibidabo can be reached by funicular - the journey up is half the fun, with spectacular views - and is particularly popular on weekends with locals because it is home to the Parc d'Atraccions, an amusement park with some thrill rides and a renowned house of horrors. Tibidabo also features the soaring Torre de Collserola telecommunications tower, which offers visitors the chance to ride in a glass lift to an observation platform 377 feet (115m) high to enjoy a truly phenomenal view. A large church named the Temple del Sagrat Cor is surmounted by a giant Christ statue, offerinig a lift to a rooftop viewing platform, while the Carretera des Aigues trail is perfect for keen hikers who want to climb the hill at their own pace. It is an easy walk, which only takes about an hour, starting from the base of the funicular and ending at the church. There are a number of restaurants to enjoy on the hill.
Address: Plaça Tibidabo, 3-4, Barcelona, Spain.
Website: www.tibidabo.es
Telephone: +34 932 117 942
Opening times: 11am to 11pm, Monday to Sunday.
Admission: €