Palau de l'Almudaina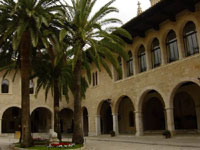 Almudaina Palace © Ajuntament de Palma
Opposite the cathedral in Palma stands an austere fortress palace that was erected by the Moors and later became the residence of the kings of Mallorca. The Moors built the fortress in 1281 and it was converted into a royal residence at the end of the 13th century, but evidence suggests that the Moors themselves built on an existing Roman fort. The palace is still officially a royal residence, although very seldom occupied, and is occasionally used for royal functions and events. Inside, most rooms and corridors are bare, but there are some beautiful Flemish Gobelin tapestries on display as well as a few antiques, art works and suits of armour. The royal apartments can be seen and there is an impressive Gothic chapel which showcases some rare late Romanesque architectural features. The palace, on the Plaza Reina, is surrounded by a pleasant Moorish-style garden sporting fountains, and offering panoramic views of the harbour. There is very little information in the fortress itself, but audio guides are available in English. Although visitors expecting lavish decor will be disappointed, exploring the palace is still fascinating and photographers will find plenty of worthy material.
Telephone: +34 971 214 134
Opening times: April to September open Tuesday to Sunday 10am to 8pm; October to March open Tuesday to Sunday 10am to 6pm; Closed Mondays.