Banys Àrabs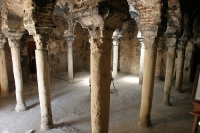 Banys Arabs © lloydi
The only surviving Moorish building in Palma is the bathhouse of Banys Àrabs, located in the city's medieval quarter. It contains an elegant horseshoe-arched dome chamber supported by 12 columns, fronted by a lovely little garden with picnic tables. Although this is a small attraction, basically consisting of two empty chambers (hence the low admission cost), the old architecture is graceful and photographers should enjoy capturing the romantically dilapidated walls and columns. The baths are worth visiting to get some impression of the character of the old city as they are sadly all that remains. There is a short video show, in multiple languages, providing some historical information about the building, but not much else. The site is generally deserted and is a serene spot to imagine the past and take a break from sightseeing to read or write in the peaceful gardens. Bring your own picnic and enjoy a slow lunch at the baths. Although it is located on a small side road, the building is well sign-posted and shouldn't be hard to find. Those interested in history or Moorish architecture should not miss this tiny but charming attraction in Palma.
Address: Ca'n Serra, Palma
Opening times: Open daily from 9.30am to 6pm
Admission: €2 (adults).