Cova de Can Marca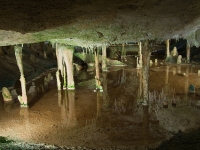 Cova de Can Marca © simpologist
The tourist attraction cave complex of Cova de Can Marca sits a few miles north of Sant Miquel, a village with an attractive hilltop church and good tapas bars. The caves have been commercialised and fitted with some spectacular sound and lighting effects, providing for an entertaining guided tour. The caves are situated atop a rocky inlet, with spectacular views over the bay and of the islands Murada and Feriradura. The cave is said to be more than 100,000 years old and features underground lakes, stalactites, and stalagmites. There was once a natural waterfall in the cave system but the waterfall featured on the tour today is a replica, as the waterbeds of the cave system are now fossilized. The caves were once used by smugglers to hide their cargo and it is still possible to see the marks they made on the walls to guide them through the cave system. Tours are held in various languages and take about 40 minutes. The tours are suitable for people of all ages and fitness levels and are very popular with tourists. It is not necessary to book in advance.
Telephone: +34 971 334 776
Opening times: 10.30am to 1.30pm and 2.30pm to 8pm (May to October); 11am to 5.30pm (November to April).
Admission: €10 (adults), €6 (children aged 4 - 12).