Grand Place (Central Square)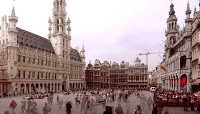 Grand Place © Mats Halldin
The Grand Place is the beating heart of Brussels and has been since the Middle Ages. One of Europe's more beautiful squares, it lies at the centre of a maze of small cobbled streets and is surrounded by richly decorated 17th century Baroque Guildhouses, various Neo-Gothic buildings and museums. But it is the town hall, a magnificent Gothic building, that dominates the square. Markets, flower stalls, and various events are held here and this is the place to get to grips with the essence of Brussels, perhaps over a local delicacy at a pavement café.
Address: 1000 Brussels
Website: www.brussels.be/grand-place-brussels
Transport: Catch the Metro to get to the Grand Place. Metro stop: Centrale, Bourse (pre-metro) or De Broukere.
Opening times: 24 hours
Admission: Free