Manneken-Pis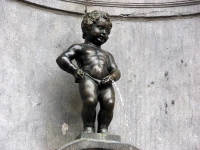 Manneken-Pis © Pbrundel
This distinctive statue of a naked boy urinating is thought to represent Brussels's irreverent spirit. History has many tales about its beginnings, with one especially whimsical story having a witch curse a boy to pee for eternity after seeing him pee on her front door. The local tradition is to dress the tiny bronze statue at special occasions, and his wardrobe contains more than 800 costumes. The most expensive of them was a gift from Louis XV of France, though the statue has some modern outfits, too, such as a Mickey Mouse costume. As the cheeky fountain is one of the most popular attractions in Brussels, visitors can expect large crowds at most times of day, particularly during tourist season.
Address: Rue de l'Etuve 31, located two blocks behind the Town Hall at Grand Place
Website: www.brussels.info/peeing-boy
Transport: Catch the Metro to get to the Grand Place. Metro stop: Centrale, Bourse (pre-metro) or De Broukere.
Admission: Free