Royal Barges National Museum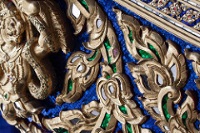 A barge on display © Roger Howard
The Royal Barges National Museum houses several decorative royal barges, the earliest of which dates back to 1357. Most of the barges served as War Vessels at one point, and were subsequently used on royal or state occasions on the Chao Phraya River. Due to their age, the barges are now rarely used, but their intricate designs reflecting Thai religious beliefs and local history are of great importance to the country's heritage. The barges were last used at the end of 1999 to celebrate the king's 72nd birthday.
Address: Arun Amarin Road, Bangkok Noi
Transport: Get a guide to take you, or take the ferry to Phra Pin Klao Bridge Pier and walk the rest of the way.
Opening times: Open Saturdays and Sundays 9am to 5pm
Admission: THB 200 in order to take photos, otherwise THB 100.