Château de Chillon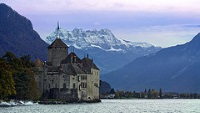 Château de Chillon © Kosala Bandara
One of the best-maintained medieval castles in Europe, the 13th-century Château de Chillon is the most visited historical building in Switzerland. With its stunning lakeside location near the chic town of Montreux, jutting out into the water and framed by mountains, it is one of the most photographed castles in Europe. An important fortress in the Middle Ages, it was positioned to control the narrow passage between mountains and lake, protecting the major north-south route. It was also the favourite summer residence of the Counts of Savoy; while later, it served as a state prison. Visitors can tour the dungeons where the castle's most famous prisoner was chained for four years, the priest François Bonivard: a supporter of the Reformation. The fortress became famous when Lord Byron wrote about Bonivard's fate in an inspired poem entitled Prisoner of Chillon. Besides the dungeons, visitors can wander round the towers and courtyards, discover narrow secret passages, and see the grand knight's halls, frescoed chapel, luxurious bedchambers and rooms containing medieval weapons, furniture and paintings.
Address: Avenue de Chillon 21
Website: www.chillon.ch
Telephone: +41 21 966 8910
Transport: By car, train (Veytaux) or bus (line 201 from Vevey, Montreux and Villeneuve).
Opening times: April to September, 9am-7pm (last entry at 6pm); October, 9:30am-6pm (last entry at 5pm); November to February, 10am-5pm (last entry at 4pm); March, 9:30-6pm (last entry at 5pm)
Admission: CHF 12.50 adults, CHF 6 for children ages 6-15 years, other concessions available