Innsbruck Travel Guide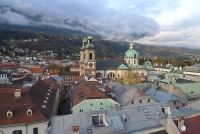 Innsbruck © Dnalor 01: Wikimedia Commons, CC-BY-SA 3.0
Though less well-known than Vienna and Salzburg, Innsbruck is one of Austria's largest and most interesting cities, home to more than 100,000 people. Despite its size though, the Alpine city oozes small-town charm and makes a great base for exploring the many popular mountain and ski resorts in the Alps. Visitors to Innsbruck will be struck by its picturesque location, affording spectacular views of the region, and by the dazzling displays of sparkling stones at Swarovski Crystal World, one of its most popular attractions.
Established in the Stone Age, Innsbruck has at various times been the property of Rome, Bavaria, Germany, and finally Austria. The capital of the Tirol province, the city's beautiful buildings are reminders of its history with Renaissance-style castles, Baroque cathedrals, and Gothic monuments, including the Imperial Palace, Ambras Castle, and the Cathedral St Jacob.
There is much to see and do in Innsbruck. The city boasts a number of museums dedicated to art, history and science; many parks and zoos; and plenty of shopping malls and markets. Innsbruck is the cultural heart of the Austrian Alps and hosts a world-class opera, along with a wide range of restaurants, live music venues, bars, and clubs. The two universities and numerous colleges in town ensure a lively nightlife.
For many tourists, however, Innsbruck is simply a port of call on the road to the powdery slopes of the Alps, due to its location near Alpine ski resorts like Kaunertal, Stubaier, and St Anton. Innsbruck has hosted the Winter Olympics twice and sponsors many winter sports events each year.
Become our Innsbruck Travel Expert
We are looking for contributors for our Innsbruck travel guide. If you are a local, a regular traveller to Innsbruck or a travel professional with time to contribute and answer occasional forum questions, please contact us.