Salzburg Travel Guide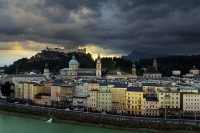 City of Salzburg, Austria. © Thomas Pintaric
Until 1816, Salzburg was a city-state, independent of the Hapsburgs and ruled by powerful prince-archbishops. It is situated on the northern border of Austria, 70 miles (113km) southeast of Munich, in a picturesque setting surrounded by mountains.
Mozart was born here and the city's fascination with its most famous son is best demonstrated during the Salzburg Festival, which presents world-class performances of opera, drama and concerts each summer. Even the non-musical will find it difficult to resist Mozart's impression on the town: his image is on every postcard and chocolate box and both his birthplace and family house are now museums offering detailed insight into his life and work.
The city is also the hometown of Baroque and the south side of the river is a beautiful Baroque sprawl of charming churches, squares, houses, and fountains. The original buildings were cleared in the late 1500s by Prince Archbishop Wolf Dietrich von Raitenau in order to create a 'German Rome'.
All the main sights are within walking distance of the spacious old city (Altstadt), which is now largely pedestrianised. A few miles to the south of the city are the historic towns of Hallein and Werfen and to the west are the lakes of Salzberger, which are especially worth visiting during the spring and summer when the wild flowers are out.
Become our Salzburg Travel Expert
We are looking for contributors for our Salzburg travel guide. If you are a local, a regular traveller to Salzburg or a travel professional with time to contribute and answer occasional forum questions, please contact us.