Baku Travel Guide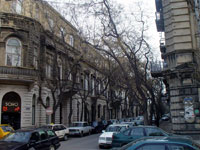 A Baku street © Mike Butler
Baku is an ancient coastal city on the Caspian Sea that dates back to the 1st century AD, its long and colourful history including occupation by the Persians and Russians. Today the destination is a modern, 21st-century city where bold architectural designs, parks and gardens have replaced ugly soviet-style buildings. The improvements to services and infrastructure have also been substantial.
That said, Baku has retained its sense of culture and history through preserving its Old City, which is a UNESCO World Heritage Site. Visitors can easily explore the maze of narrow cobbled streets in a single day, and admire stunning medieval structures such as the Maiden Tower, the Palace of the Shirvanshahs, the public baths and dozens of mosques.
Outside the Old City, glass-shelled towers dominate the skyline and air-conditioned shopping malls replace markets and street-side shops. Many excellent museums, a lively nightlife and a renowned restaurant scene also await visitors. The city's beaches may disappoint travellers who want to enjoy the Caspian Sea, though the Absheron Peninsula's north coast offers several beautiful stretches of sandy coastline and excellent facilities, most notably at Bilgah and Amburan.
Become our Baku Travel Expert
We are looking for contributors for our Baku travel guide. If you are a local, a regular traveller to Baku or a travel professional with time to contribute and answer occasional forum questions, please contact us.
Intrepid Travel is one of the world's leading suppliers of small group adventures focused on getting off the beaten track and having real life experiences in Azerbaijan.
ADVERTISEMENT
---