Ghent Travel Guide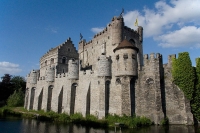 Ghent © Maros
Ghent is an old medieval city that has long been overshadowed by Bruges, but holds many attractions for the visitor and has the advantage of having far fewer tourists.
The city was once the heart of the cloth trade and the largest medieval city in Europe after Paris. Today the old centre has many historic buildings including St Bavo's Cathedral, the Castle of the Counts, a turreted castle with a moat, a bell tower for great views, the Town Hall and the 15th-century Cloth Hall.
Ghent's city centre is wholly modern however, and the city's large university population mixes with an eclectic blend of expats and artists to give the city a diverse and cosmopolitan air.
Despite being off the beaten track for may tourists, Ghent offers good museums, lively nightlife, and excellent restaurants serving the best in Flemish cuisine.
Belgium's small size ensures that Ghent is less than a 40-minute train ride from major cities like Bruges and Brussels, and within easy distance of other interesting tourist destinations, like Courtray and Ostend. A weekend in Ghent is the perfect addition to any holiday in Belgium.
Become our Ghent Travel Expert
We are looking for contributors for our Ghent travel guide. If you are a local, a regular traveller to Ghent or a travel professional with time to contribute and answer occasional forum questions, please contact us.