Fortaleza Travel Guide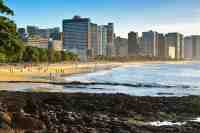 Fortaleza © Ricardo
Fortaleza is huge and isolated, and lures travellers with about 16 miles (25km) of urban beaches and a celebrated nightlife. The coastal destination is extremely popular among holidaying Brazilians. Praia de Iracema, Meireles and Varjota are all booming tourist neighbourhoods boasting shops, restaurants and nightclubs aplenty.
Fortaleza is not a prime sightseeing destination insofar as it has few famous landmarks or historic sites - though some fine examples of colonial architecture do remain. That said, it's unrivalled as a hedonistic beach holiday setting.
The city is hot and humid year-round, promising almost permanent beach weather. Popular urban beaches include Iracema, which has some beach bars and nightclubs and a bohemian vibe, and Mucuripe, where local fishermen still ply their trade at a traditional fish market. Praia do Futuro has great tourist infrastructure, while the Pedra da Risca do Meio State Marine Park offers scuba diving.
Travellers who'd rather avoid the city's crowded beaches can find more wild and unspoilt stretches of coastline beyond Fortaleza, where a number of quaint fishing villages promise a more timeless and authentic experience of Brazilian culture.
Become our Fortaleza Travel Expert
We are looking for contributors for our Fortaleza travel guide. If you are a local, a regular traveller to Fortaleza or a travel professional with time to contribute and answer occasional forum questions, please contact us.