Sao Paulo Travel Guide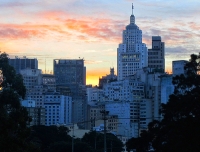 Sao Paulo at sunset © Diego Torres Silvestre
Originally a mission station set up in 1554 by Jesuit priests on the banks of the Rio Tiete, the city of Sao Paulo is today an awesome megalopolis, the industrial and commercial powerhouse of Brazil. The city grew wealthy on coffee cultivation in the mid-19th century, thanks to the rich soil of the region, and the plantation owners took up residence in the bustling regional centre. Gradually the coffee barons diversified their interests and invested some of their wealth in local industry, resulting in a demand for labour and a resultant surge in immigrant population. Today, 16 million proud Paulistanos live in the congested, chaotic and cosmopolitan city centre and its sprawling surrounds.
Lacking in natural attractions, the city's leisure pursuits are mainly cultural and artistic, and there are some impressive public buildings to delight sightseers, as well as some top-notch museums, theatres, bars, and some of the best shopping in Brazil. Neighbourhoods like Bela Vista and Bixiga are very photogenic, with both ornate mansions and impressive skyscrapers. Sao Paulo is a fast-paced urban jungle, which dwarfs New York City in size several times over, so a holiday in Sao Paulo is not for those who come to South America for laid-back beaches and sunshine. However, it is a paradise for shopping, eating, nightlife, and generally living it up among Brazil's wealthiest inhabitants.
Become our Sao Paulo Travel Expert
We are looking for contributors for our Sao Paulo travel guide. If you are a local, a regular traveller to Sao Paulo or a travel professional with time to contribute and answer occasional forum questions, please contact us.