Cayman Brac Travel Guide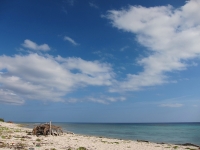 Cayman Brac © Lee Shoal
Cayman Brac was the setting for Robert Louis Stevenson's classic Treasure Island, and it remains today much as it is described in that well-read novel with its dramatic scenery, maze of caves, and many offshore wrecks.
Brac is the Gaelic word for bluff, and the island's bluff is on the eastern extremity where a sheer limestone cliff drops perilously into the sea. There is plenty to explore here, both on and offshore. Inland tropical plants bloom year-round and between the fruit trees and cacti stunning bird life is to be found including, if you are lucky, the rare Cayman Brac Parrot.
Most people are attracted to Cayman Brac for the excellent scuba diving; the newest attraction is the wreck of the 330-foot (100m) Russian-built Cuban naval frigate which was sunk off the island's northwest coast in 1996. It is already the home for a variety of marine life.
Fishermen come to the island to revel in the shallow waters filled with bonefish and the deeper offshore waters teeming with game fish. Those who simply want to relax can enjoy the solitude of one of the many quiet beaches and make like castaways in the most beautiful and unspoiled of settings.
Become our Cayman Brac Travel Expert
We are looking for contributors for our Cayman Brac travel guide. If you are a local, a regular traveller to Cayman Brac or a travel professional with time to contribute and answer occasional forum questions, please contact us.