Hangzhou Travel Guide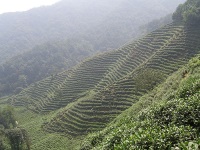 Hangzhou © Shizhao
Located in the south-eastern province of Zhejiang, Hangzhou has been bewitching visitors with its natural beauty for centuries, with even Marco Polo declaring it paradise. The city is known for the tranquillity of its hills and gardens.
Hangzhou's West Lake is lush, green and dotted with temples, bridges and pavilions. Visitors can stroll through the gardens, take a boat ride, see the thousands of stone carvings at Lingyin Temple, or admire the scenic view from Baochu Pagoda. Hangzhou has a number of interesting museums too, such as the National Silk Museum and the National Tea Museum.
The city's tea fields are noteworthy. Indeed, the local variety of green tea, Xi Hu Long Jing, is a popular purchase among travellers. The Silk Market and Night Market are good stops for shopping.
As for its cuisine, Hangzhou's specialties include Dongpo Pork, Longjing Shrimp Meat, Steam Rice Flower and West Lake Sour Fish. Hangzhou's nightlife doesn't rival the scenes in China's larger cities, but there are a number of bars and restaurants in the city centre. Visitors can expect to find karaoke halls, theatres, teahouses and nightclubs as well.
All in all, Hangzhou offers visitors a glimpse into the region's rich history, without sacrificing any of the amenities they might expect from a big city.
Become our Hangzhou Travel Expert
We are looking for contributors for our Hangzhou travel guide. If you are a local, a regular traveller to Hangzhou or a travel professional with time to contribute and answer occasional forum questions, please contact us.