Kunming Travel Guide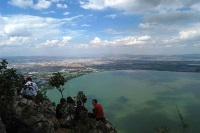 Kunming © Emitchan
Kunming is known as the 'city of eternal spring' due to its pleasant climate and attractive setting among limestone hills and large lakes. It is the capital of Yunnan Province in southern China, and encompasses an ancient city, and a modern commercial district. It's also an important hub for trade and transportation, and is linked to Vietnam by rail, and to Laos and Burma by road.
Kunming has been rapidly modernised in the last few decades, perhaps to the detriment of traditional sights and interesting cultural locations. Nonetheless, it has many sights and cultural attractions worth visiting, including temples, museums, parks and gardens, and the fascinating Stone Forest. Jiuxiang Scenic Area also has a number of popular caves and waterfalls. All in all, the city and wider region offer a good cross-section of both modern and ancient China, plus beautiful scenery.
By Chinese standards Kunming is quite laid-back, despite its importance as a trade and transportation hub. It's known to offer high living standards. Although a popular resort city in its own right, its status as a provincial capital and crossroads between countries also makes it very useful to tourists exploring the region.
Become our Kunming Travel Expert
We are looking for contributors for our Kunming travel guide. If you are a local, a regular traveller to Kunming or a travel professional with time to contribute and answer occasional forum questions, please contact us.