Dalmatian Coast Travel Guide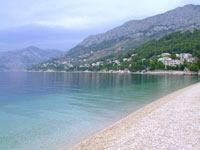 Punta Rata beach © Judith Duk
Although often used vaguely to describe the whole of Croatia's gorgeous coastline, the Dalmatian Coast is actually one of three coastal regions in the country, albeit the most famous. Dalmatia extends from the southern tip of Croatia to just beyond the city of Zadar, and includes tourist hubs like Dubrovnik, Korcula, Makarska, Split, and Trogir.
This stretch of coastline is breathtakingly beautiful and blessedly free of high-rise developments and concrete, looking in many ways like it must have in medieval times, with the UNESCO endorsements to prove it.
Dalmatia was once a Roman province and although not a recognised territory in modern Croatia, the Roman heritage adds a splendid ancient allure to the Dalmatian Coast. Well-preserved historic centres beckon travellers in cities like Split and Dubrovnik.
Croatia is rapidly developing a reputation as a hallowed cruising and sailing destination. Although it is easy to travel the southern coastline by car, undoubtedly the best way to explore the Dalmatian Coast is by yacht, gulet, or ship. Even strict non-sailors will find it easy to island hop using the public ferry system.
The Dalmatian Coast is currently reaping the touristic rewards of being both an increasingly trendy riviera getaway and a laid-back, comparatively undiscovered gem, without the glitzy resorts and teeming crowds that have marred other once-delightful cruise destinations.
The big appeal of the Dalmatian region is the unspoiled natural beauty, with an attractively rugged coastline coupled with calm, luminescent bays and coves, interspersed with interesting cities and towns where the Roman and even Greek heritage remains palpable.
The increasing popularity with travellers has spawned an energetic nightlife and a diverse restaurant scene, and none of the amenities for comfortable travel are lacking. All this combined with the comparative affordability of a holiday on the Dalmatian Coast makes it a gem of a destination.
Become our Dalmatian Coast Travel Expert
We are looking for contributors for our Dalmatian Coast travel guide. If you are a local, a regular traveller to Dalmatian Coast or a travel professional with time to contribute and answer occasional forum questions, please contact us.