Trinidad Travel Guide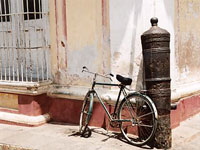 Trinidad © Judith Duk
One of the most visited towns in Cuba, Trinidad maintains a charming colonial atmosphere with its uneven cobbled streets, quiet plazas and churches, detailed with red-tiled roofs, wooden shutters and wrought-iron frames. Bicycles and horse-drawn carts bump along streets lined with somewhat pastel-coloured houses worn with age, while the strains of salsa music drift out from cool courtyards where the intricate steps of the dance are practised.
Designated a UNESCO World Heritage Site in 1988, Trinidad has largely escaped the modern tourist infrastructure and doesn't have the large hotels usually accorded to a popular destination, allowing it to retain its welcoming and tranquil atmosphere.
Surrounded by sugarcane plantations and situated between the Topes de Collantes Mountains and the Caribbean Sea, Trinidad's location also provides easy access to the beach, the mountains and the beautiful surrounding countryside.
Vestiges from the 18th and 19th centuries in the Valle de los Ingenios (Valley of the Sugar Mills) testify to a time of immense prosperity for landed Cubans, amassing immense wealth during the sugarcane boom under slavery and colonial rule. It was after the abolishment of slavery that the boom ended and the area drifted into picturesque tranquillity.
Become our Trinidad Travel Expert
We are looking for contributors for our Trinidad travel guide. If you are a local, a regular traveller to Trinidad or a travel professional with time to contribute and answer occasional forum questions, please contact us.