Quito Travel Guide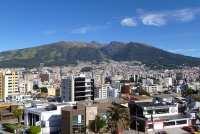 Quito © David Berkowitz
Capital city Quito is the central hub of Ecuador, and often the entry point for all other destinations in the country. Nestled in the Andes Mountains, it is a vibrant amalgam of modern business executives and traditional Andean people (Indigenas).
The city is divided into two areas. History buffs will enjoy the Old Town, where the architectural influence of Spanish colonisation is evident in the red-tiled roofs lining steep, cobblestoned streets. It is a UNESCO World Cultural Heritage Site. New Town is more business-oriented, with its hotels, embassies, offices, shopping centres and travel agencies.
Quito is the cultural centre of the country and Indigenas make up a large proportion of the population. Evidence of their culture is all over the city, from the handicrafts displayed on street corners and ramshackle shops selling traditional everyday goods to the women in thick woollen clothing and felt hats queuing for bus tickets. The Quechuan language rings through streets and central plazas (squares) throughout the city.
The destination is rich in historical churches, monasteries and convents, many of which house religious paintings and sculptures dating back to the 16th century. There are also a few museums worth visiting in Quito. Among them, the Museo del Banco Central (beautiful pre-Colombian artefacts), the ethno-historical Museo Mindalae, and the contemporary art museum Museo Guayasamin stand out. Also a popular base for learning the Spanish language, Quito has over 60 language schools dotted about the city.
Become our Quito Travel Expert
We are looking for contributors for our Quito travel guide. If you are a local, a regular traveller to Quito or a travel professional with time to contribute and answer occasional forum questions, please contact us.
iExplore designs made-to-order, privately-guided adventure tours to Ecuador, the Galapagos Islands and over 200 other world wonders. Come Back Different!
ADVERTISEMENT
---
Intrepid Travel, one of the world's leading suppliers of small group adventures focused on getting off the beaten track, interacting with the locals and having real life experiences throughout Ecuador.
ADVERTISEMENT
---