Corsica Travel Guide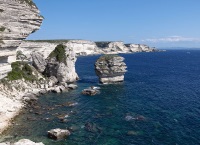 Corsica © Myrabella
Known by turn as the 'island of beauty' or 'mountain in the sea', Corsica is said to resemble a small continent due to its incredible geographic diversity. The island has not been subject to the same level of development as the rest of the Mediterranean and therefore remains largely unspoiled.
The endless coastline offers perfect beaches, calm bays and vibrant cities such as Bonifacio, perched dramatically on top of white cliffs. Inland lies the mountain ranges, valleys and dense forests, home to a variety of bird life, including the famous bearded vulture. Some of the highest mountains on the island are in Scandola Nature Reserve, a UNESCO World Heritage site only accessible by boat.
Corsica has been invaded by a multitude of different tribes and civilisations over the years. As a result, the island is a melting pot of different cultures and influences. Today the invaders of the island, which gave birth to Napoleon and Columbus, are the tourists. Thousands of holiday-makers flock each year to the long sandy beaches, pretty fishing villages, high cliffs and rocky inlets.
Tourists can visit Ajaccio, birthplace of Napoleon, to delve into the island's history. Many choose to sample local delicacies such as chestnuts, olive oil, pastries and boar meat. Snorkeling and sunbathing are the order of the day on the coast. Those more adventurous souls can head to the mountains for hiking, cycling and canyoning.
Become our Corsica Travel Expert
We are looking for contributors for our Corsica travel guide. If you are a local, a regular traveller to Corsica or a travel professional with time to contribute and answer occasional forum questions, please contact us.