Dresden Travel Guide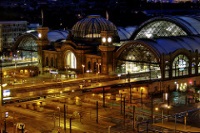 Dresden by night © Marcus Pink
Dresden is a city rebuilt. Perhaps best known for the controversial World War II bombing that killed 25,000 people and destroyed 75 percent of the city centre, the city is now largely restored to its former splendour.
Dresden dates back to the early 13th century, and some buildings date back hundreds of years, including the rebuilt Frauenkirche, the Swinger Palace, the SemperOper, and the Fürstenzug. Excellent museums in the city are dedicated to art, local culture, the military, natural history, anthropology, and even hygiene.
A lively city with a strong arts and culture scene, Dresden has an energetic nightlife and a number of music, film, and cultural festivals throughout the year. These include the Colourful Republic Neustad, the Dixieland Festival, Filmnächte, and the festive Christmas markets held in the streets over December. However, there is a party to be found almost any night in Dresden, with many clubs and bars concentrated in Neustadt and Weiße Gasse, and some excellent restaurants around the Frauenkirche.
Visitors longing for an active holiday will find plenty to do in Dresden. Rollerblading in the Großer Garten is a popular pastime, as is rowing in the small boats on the Carolasee. Saxon Switzerland, located upstream along the Elbe River, is a national park perfect for hiking and rock-climbing. Dresden is also home to the oldest zoo in Germany.
Dresden is situated about two hours from Prague, and within easy distance of some of Germany's top attractions, including the Königstein Fortress, the Saxon Ore Mountains, Pillnitz, Meissen, and Leipzig.
Become our Dresden Travel Expert
We are looking for contributors for our Dresden travel guide. If you are a local, a regular traveller to Dresden or a travel professional with time to contribute and answer occasional forum questions, please contact us.