The Black Forest Travel Guide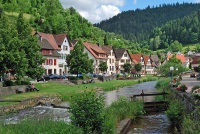 Schwarzwald © Harke
The Black Forest (Schwarzwald) covers birch and pine studded hills along 100 miles (161km) of southwest Germany's border with France. The forest is renowned as a popular holiday destination in Germany, featuring picturesque fairy-tale villages, spa-bath resorts, hiking trails and ski resorts.
The first famous holidaymaker to enjoy rest and recuperation in the Black Forest was the Roman Emperor Caracalla who stopped to sample the natural spring waters in what is now the town of Baden-Baden, around 2,000 years ago. Since then the Black Forest has been the chosen destination for the rich and famous. Everyone who is anyone, from Napoleon to Mark Twain, has come to take to the waters and enjoy the forest's natural beauty.
In medieval times the local people developed the traditional skills of woodcarving, glass-blowing, jewellery-making and clock-making, and these art forms are still cultivated in the region today, to the delight of tourists with spending money in their pockets. The clocks are particularly famous and there are an amazing variety of them. The Black Forest has also become known for its local food delicacies, like Black Forest ham and cherry cake.
The most central town in the Black Forest is Freudenstadt, which is the starting point for hundreds of miles of hiking and ski-trails through the nearby hills. Most visitors, however, prefer to find accommodation in guest lodges in the small villages sprinkled throughout the region, exploring by car, on foot or by bicycle.
Become our The Black Forest Travel Expert
We are looking for contributors for our The Black Forest travel guide. If you are a local, a regular traveller to The Black Forest or a travel professional with time to contribute and answer occasional forum questions, please contact us.