The Rhineland Travel Guide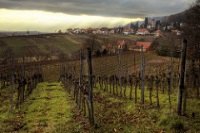 The Rhineland © Wolfgang Staudt
The Rhine River winds through Germany amid a fertile valley of villages, castles, mountains and vineyards. The Rhine has been an important trade route for the last two millennia, and the towns that have sprung up along its banks exhibit all the tradition and charm of that rich history, making it a popular region for tourism and a really exciting area to explore.
Each section of the Rhineland has its own attractions, including the winelands of Rheinhessen, the hiking trails of Westerwald, the mineral springs of Ahr, and the historic Roman and Celtic settlements of Hunsruck. The region is full of fairy-tales and mythology, and has inspired tales like Wagner's epic Ring Cycle, wherein Siegfried kills the dragon and Brunhild plots revenge. The Rhineland has also been immortalised in stories by Lord Byron, Goethe and Mark Twain.
Today you can visit bustling small towns along the river, including Mainz, Trier, Koblenz, Neustadt an der Weinstrasse and Worms. Larger cities like Cologne, Bonn and Düsseldorf are attracting business to their growing metropolises and offer more cosmopolitan shopping and dining options. The variety of experiences makes the Rhineland a perfect holiday destination for just about anyone, and one of the best ways to explore is by cruising down the river itself.
Become our The Rhineland Travel Expert
We are looking for contributors for our The Rhineland travel guide. If you are a local, a regular traveller to The Rhineland or a travel professional with time to contribute and answer occasional forum questions, please contact us.