Samos Travel Guide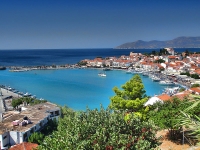 Pythagorio, Samos © Nikos Anastasiou
Samos is the Aegean's easternmost island. All told, it's a wonderful mix of tourism infrastructure and traditional Greek charm.
The renowned ancient mathematician, Pythagoras, was born on the island in the 6th century BC. Samos flourished during that period, with its handful of remains hinting at those comfortable times.
Since then, Samos has often passed between Greek and Turkish hands, before returning to Greece for good in 1913. Today, Visitors will find top holiday resorts, beaches sprinkled with sunbeds and waterfronts lined with tavernas, bars and cafes.
Samos town curls around a semi-circular bay, with pretty pastel-coloured buildings rising in tiers up a green hillside. Numerous other coastal towns and villages encircle the island.
Further inland, travellers can visit delightful mountain villages, where friendly locals and picturesque alleyways offer an authentic taste of Greece.
Regarding its natural beauty, Samos is blessed with a dramatic, indented coastline, dotted with sand and shingle coves. The island's hills and mountain slopes are covered in vines and verdant forest.
Considering everything, Samos comes up trumps for a classic Aegean summer holiday.
Become our Samos Travel Expert
We are looking for contributors for our Samos travel guide. If you are a local, a regular traveller to Samos or a travel professional with time to contribute and answer occasional forum questions, please contact us.