Bali Travel Guide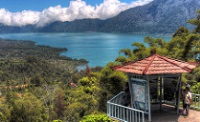 Bali © Thomas Depenbusch
Bali has long been an exotic paradise. The island is a picturesque vision of green rice fields and plantations, soaring volcanoes, cool lakes, rushing rivers, lush forests and palm fringed beaches. It is Indonesia's number one tourist spot and it is not difficult to understand why. Bali not only has an incredible coastline but also the original charm of the 'Island of the Gods' and its smiling people, especially in the many small rural villages and fascinating places of the fertile interior.
What sets Bali apart from the rest of Indonesia is the prevalence of Balinese Hinduism. Scattered around Bali are thousands of Hindu temples and places of worship. The island's religious beliefs are evident in the ceremonies, daily rituals and attitudes of the locals, in the offerings of flowers and food that adorn the roadsides, the charms hung inside taxis, and the numerous vibrant festivals that occur throughout the year. It is also perceptible in local reverence for the Holy Mountain, the soaring volcanic cone of Gunung Agung, which is the spiritual centre of the Balinese universe. Art is an integral part of daily life and every village has its artists, from internationally acclaimed painters to aspirational young cow herders. Ubud, the cultural centre, with its streets lined with art and crafts shops, also offers regular performances of traditional Balinese dance and music. Art, together with tourism, is an important source of revenue for the island.
With its fine beach, the popular resort of Kuta is the most visited destination. There are numerous other beach resorts around the island, with more peaceful settings on the east coast at Candidasa, Sanur, the fishing village of Padang Bai, and on the northern coast at Lovina. There are a number of good scuba diving sites and reef snorkelling spots close by.
Despite the shock of terrorist attacks a few years ago, Bali is still a tropical paradise with a rich and intriguing culture, and beautiful land and seascapes, attracting those in search of an idyllic vacation. However, visitors are still advised to contact their foreign office for the latest travel advice before travelling to Indonesia, and Bali in particular.
Become our Bali Travel Expert
We are looking for contributors for our Bali travel guide. If you are a local, a regular traveller to Bali or a travel professional with time to contribute and answer occasional forum questions, please contact us.