Lombok Travel Guide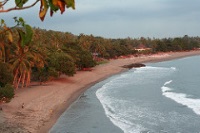 Lombok © Fery Indrawan
One island to the east of Bali, Lombok has yet to be discovered by the package tourist: the beaches and coastal villages are comparatively undeveloped and the locals are relatively indifferent to tourists, though friendly. Although it is inevitably compared with its better-known neighbour, the island differs in many respects - physically, culturally, linguistically and historically. The indigenous Islamic Sasak people make up 90 percent of the population, and although they appear to live amicably with the Balinese minority there is occasional animosity, which is not surprising given that a lot of the economic advantages of increased tourism have eluded the native Sasak.
The mountainous north of the island is dominated by the spectacular volcano of Mt Rinjani, at 12,221 feet (3,726m) the third highest peak in Indonesia and a popular four-day trek for locals and tourists alike. To the south are the central plains, which contain the most productive agricultural areas as well as the major conurbation on the west coast, an amalgamation of the towns of Ampenan, Mataram, Cakranegara and Sweta. Further south again, beyond a range of low inland hills, are the sweeping bays and pure white sands of the southern beaches, all of which can be explored from Kuta (not to be confused with Bali's Kuta), the main resort town of southern Lombok and surfing Mecca of the island.
Several groups of islands lie off the Lombok northwest coast: the best known are the three Gili Islands - Trawangan, Meno and Air - which have been popular for many years with backpackers seeking a simple lifestyle of sea, sun and sand. However, they are now becoming more widely discovered and as a result more expensive.
Become our Lombok Travel Expert
We are looking for contributors for our Lombok travel guide. If you are a local, a regular traveller to Lombok or a travel professional with time to contribute and answer occasional forum questions, please contact us.