Sardinia Travel Guide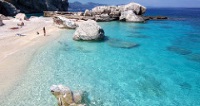 Sardinia © Roberto Cossu
DH Lawrence passed through Sardinia in 1921, remarking on its geographic location as a place 'lost between Europe and Africa and belonging nowhere'. By Italian standards it is off the beaten track, but therein lies its appeal. The island's beaches are some of the cleanest and least crowded in Italy.
The capital is Cagliari, a good base from which to explore other parts of the island. The National Archaeological Museum of Cagliari contains prehistoric tombs and other significant artefacts from the Punic and Roman periods. The resort of Costa Smeralda is a place of luxury and opulence, not suited to budget tourists, although interesting as a short stop. The Spanish-flavoured port of Alghero is the favoured package destination, especially among British holidaymakers. The inland town of Nuoro is a good station from which to explore the Gennargentu mountain range and enjoy the traditional village festivals. The Sardinian landscape is peppered with constructions from the ancient Nuragic civilisation. These UNESCO-listed stone structures are unique to Sardinia and are must-see sites. They are, however, not easily accessible as they lie in isolated spots throughout the island.
Sardinia has a typically Mediterranean climate, but the south is generally much drier than the northwestern region, which receives a lot of rain in winter. The wettest months are November and December, while July and August are the hottest and the driest, with an average temperature of around 95°F (35°C), and sometimes reaching 104°F (40°C). In winter, temperatures average about 50°F (10°C) along the coast. Spring and early autumn are the best times to visit Sardinia.
Become our Sardinia Travel Expert
We are looking for contributors for our Sardinia travel guide. If you are a local, a regular traveller to Sardinia or a travel professional with time to contribute and answer occasional forum questions, please contact us.