Tuscany Travel Guide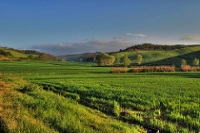 Hills of Tuscany © Francesco Sgroi
Tuscany's rolling hills are garlanded with cypress trees, lush vines and olive groves, that make way here and there for sleepy villages and medieval hill-towns. The area rests languidly in the middle of the Italian peninsula, with parts stretching to the coastline of the Tyrrhenian Sea. Snaking through the Tuscan landscape from Florence to Pisa and soaking its thirsty banks is the Arno River. Akin to the gentle flow of a river is the ebb of life in the region: people work in the fields in much the same way as their ancestors did before them, producing some of Italy's finest wines and olive oils. From this same landscape emerges a profusion of art and architecture that has grafted Italy onto the world's cultural map. Tuscany was the birthplace of the Renaissance, a period of unprecedented innovation in art, architecture and humanist scholarship. The grandeur of the High Renaissance was enjoyed during the Medici family's reign, when they commissioned the art and architecture that lives on within the elegant precincts of Florence.
Florence is one of the most popular cities in Italy for tourists, and is widely considered one of the most beautiful cities in the world. It is a dreamy destination made up of cobbled streets, picturesque piazzas, a wealth of Renaissance art and architecture, and some of the best galleries and museums in Italy. It is also a conspicuously Tuscan city, with all the sleepy charm of the region and many worthwhile excursions into the countryside.
Tuscany has a mild Mediterranean climate, with hot summers and cool, wet winters. Winter temperatures range from 50°F to 59°F (10°C to 15°C), while summer temperatures range between 77°F and 86°F (25°C and 30°C). Humidity can be high. The best time to visit Tuscany is in May, September and October.
Become our Tuscany Travel Expert
We are looking for contributors for our Tuscany travel guide. If you are a local, a regular traveller to Tuscany or a travel professional with time to contribute and answer occasional forum questions, please contact us.