Abidjan Travel Guide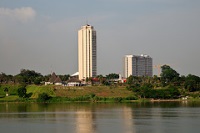 Hotel © fr.zil
Abidjan was once the proud and flourishing capital city of the Ivory Coast, and a jewel in the continent of Africa's crown; however, years of civil unrest and a lack of maintenance have seen the city slowly move away from the reputation it once held as the 'Paris of West Africa'. For those travelling to Ivory Coast, Abidjan will more than likely be your first introduction to the country.
The city is testament to what the country once was and what it could be again. This is evident in the sites such as the Hotel Ivoire, which was constructed in the sixties and hasn't changed significantly since then. Visitors can take a trip down memory lane as the hotel's architecture, furniture and decor are all reminiscent of styles that have long-since passed. Abidjan is arranged along the coast and the shores of a lagoon. Some sites in the city include a popular beach area known as Grand Bassam, the public zoo, a rainforest park in the city called Park du Banco, and Saint Paul's Cathedral.
Become our Abidjan Travel Expert
We are looking for contributors for our Abidjan travel guide. If you are a local, a regular traveller to Abidjan or a travel professional with time to contribute and answer occasional forum questions, please contact us.