Aqaba Travel Guide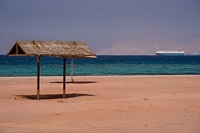 Aqaba © Wojtek Ogrodowczyk
As Jordan's only outlet to the sea, the tourist resort of Aqaba is known for its fantastic diving opportunities, mild winter climate and sandy beaches. Situated on the tip of the Red Sea in southern Jordan on the Gulf of Aqaba, the town's greatest attraction lies offshore in the colourful coral reefs that are rated as the best in the world. These boast an incredible marine life and provide wonderful opportunities for divers and snorkelers in the clear waters year-round.
Besides underwater escapades, Aqaba is an ideal location for water-sports and relaxation, whether it is swimming, water-skiing, parasailing, fishing or sunbathing. For the history enthusiast, Aqaba contains sites dating back to 4000 BC, including the recent discovery of what is believed to be the world's oldest church from the 3rd century, the remains of the medieval walled city of Ayla and a Mamluke fort. These are proof of Aqaba's strategic position as the main port on the trading route to the Far East from Africa in ancient times, which made it a thriving town, and it is this same location today that makes it an important tourist centre. It is also conveniently situated for excursions to the spectacular desert scenery of Wadi Rum and the ancient rock city of Petra.
Become our Aqaba Travel Expert
We are looking for contributors for our Aqaba travel guide. If you are a local, a regular traveller to Aqaba or a travel professional with time to contribute and answer occasional forum questions, please contact us.
iExplore designs made-to-order, privately-guided adventure tours to Jordan and over 200 other world wonders. Come Back Different!
ADVERTISEMENT
---
Intrepid Travel is one of the world's leading suppliers of small group adventures focused on getting off the beaten track and having real life experiences in Jordan.
ADVERTISEMENT
---