What to see in Fez
Fez Attractions
When travellers visit Fez, not only do they encounter a busy Moroccan city, they also travel 1,000 years back in time. The modern world has barely intruded into the warren that makes up the medieval medinas (old quarter) of this ancient city, most of the city's main tourist attractions can be found here.
Several gates allow entry to the ancient town of Fez: Bab Bou Jeloud, the western gate, has bright decorations and hotels and cafes grouped around it; Bab Er Rsif is the central gate, opening onto the square in front of the mosque of the same name; Bab el-Ftouh is the southeast gate giving onto the cemeteries; and Bab Guissa, the north gate, lies on the hillside close to the Merenid tombs vantage point. The principal entrance for tourists is the Bab Bou Jeloud, which was constructed in the modern era in 1913 but appears older because of its tiled facade.
Anyone in love with tales of Aladdin, Ali Baba and the Arabian Nights will be drawn to holiday in Fez, but the reality of the sights, sounds and smells may come as a shock to visitors. However, there is certainly beauty to be found. Travellers willing to plunge into the sensory overload will be richly rewarded, but should engage the services of a tour guide.
---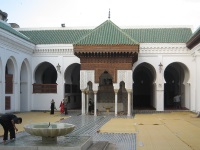 The al-Karaouine Mosque, located in the heart of the Fes El Bali (Medina), was founded in 859 with an associated madrassa (school) that subsequently grew to become one of the leading educational and…

read more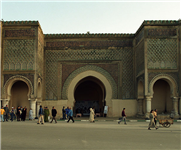 Meknes, located just 37 miles (60km) from Fez, is the least-visited of Morocco's Imperial Cities, and this is exactly what draws discerning travellers to discover its considerable charms. A city brimming…

read more
Become our Fez Travel Expert
We are looking for contributors for our Fez travel guide. If you are a local, a regular traveller to Fez or a travel professional with time to contribute and answer occasional forum questions, please contact us.