Groningen Travel Guide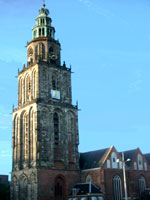 Martini Tower © Andre Engels
Groningen is the largest urban centre in the northern Netherlands. Though an ancient city, its sizable student population gives it a young heart, most recognisable in its vibrant art scene and lively nightlife.
Old and new blend exceedingly well in this city, which can trace its history to the third century. Much of it needed restructuring after the bombing in World War II. Today, visitors will find a number of attractions within its limits. Fascinating museums cover comics, science, history and tobacco. Shoppers can purchase local crafts and culture lovers can take in the city's landmarks, such as its visually stunning theatre and Martini Tower. Tourists can also visit a number of medieval alms-houses.
Art pervades the city, whether at the train station, with its magnificent stained-glass windows, or at the renowned Groningen Museum, which houses a permanent collection of 17th-century works (including Rubens' Adoration of the Magi), Hague School paintings, ceramics, and works by Groningen's expressionist De Ploeg group.
Visitors can also relax in Groningen's beautiful parks and gardens. Some of their topiaries have been sculpted for over 250 years.
Become our Groningen Travel Expert
We are looking for contributors for our Groningen travel guide. If you are a local, a regular traveller to Groningen or a travel professional with time to contribute and answer occasional forum questions, please contact us.