Alice Springs Travel Guide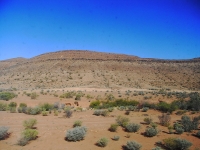 Alice Springs Landscape © Naoki Sato
Alice Springs, the vibrant hub of central Australia, grew up around a permanent waterhole that was a key terminal for the Overland Telegraph Station in 1870. It became a tough frontier town serviced by camel trains from the railhead at Oodnadatta, until the railway reached it in 1929 and it became a transport centre. Today the small city, with a population of roughly 26,000 and stylish shopping and dining facilities, thrives on tourism and provides a perfect base from which to access all of the surrounding natural wonders, including Uluru (Ayer's Rock). Alice Springs also invites visitors to learn more about the local Arrernte Aboriginal tribal group who have inhabited the area for 20,000 years. The city is also the point from which intrepid adventurers popularly strike south to explore the Simpson Desert, or east to visit the ghost towns of the MacDonnell Ranges. Alice Springs has good connections to Australia's capital cities; there are daily flights to and from the capitals and road and rail access from all capital cities is possible.
Anyone who has a fascination with the rough and ready life of Central Australia will enjoy a holiday in Alice Springs, which is an ideal base for excursions into the surrounding desert.
Become our Alice Springs Travel Expert
We are looking for contributors for our Alice Springs travel guide. If you are a local, a regular traveller to Alice Springs or a travel professional with time to contribute and answer occasional forum questions, please contact us.