Southern Bucovina Travel Guide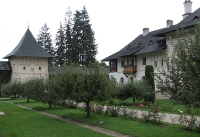 Putna Monastery in Bucovina © Cristian Bortes
Tucked into the north-eastern corner of Romania, the medieval principality of the Moldavian region, Bucovina lies in between the Carpathian foothills and the Romanian plains. Here the region's hero, Stefan the Great, fought back the Turks in the 14th and 15th centuries and then built churches and monasteries throughout Moldavia to celebrate his victories. There are 48 monasteries in total, complete with fortified walls to protect against invaders. These unique monasteries and Byzantine churches with their exceptional exterior frescoes are some of the most fascinating sights in Romania. Seven of the painted monasteries have been included on the UNESCO World Heritage List.
The area is worth visiting, not only for its wealth of religious art and the beautiful monasteries, but also for the natural beauty and simplicity of the region with its rolling hills, forests, and valleys. The countryside is scattered with picturesque villages and rural scenery as local folk go about their daily business. Horse-drawn carts dominate the lanes, driven by people bundled up against the cold, outdoor wells and piles of chopped wood adorn the yards, and produce markets bustle with activity. This fascinating region of Romania is a stark contrast to the frenetic pace and way of life shaped by the modern face of city living.
The largest town in the area, and previous capital of Moldavia, is Suceava, the gateway to the painted monasteries of Southern Bucovina. The town has various sights of interest, including old medieval churches, the Bucovina History Museum, and its main tourist site, the Schaun Citadel, a fortress built to hold off the Ottoman Sultan Mehmed II in 1476.
Become our Southern Bucovina Travel Expert
We are looking for contributors for our Southern Bucovina travel guide. If you are a local, a regular traveller to Southern Bucovina or a travel professional with time to contribute and answer occasional forum questions, please contact us.
Planning a Romania holiday? Get off the beaten track with tour operator Intrepid Travel.
ADVERTISEMENT
---