Kigali Travel Guide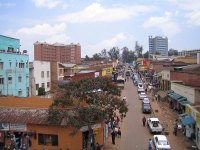 The centre of Kigali, Rwanda. © SteveRwanda
Tourism in Rwanda isn't focused on its cities, but more and more travellers are taking the time to visit Kigali, Rwanda's bustling capital. Though Kigali is small and not especially scenic, it is the administrative and financial heart of Rwanda and a great base from which to start your travels. It is home to several interesting attractions like the sobering Kigali Genocide Memorial Centre, which documents the Rwandan genocide of 1994, and the Hotel Milles Collines (made famous in the film Hotel Rwanda).
There are a reasonable number of hotels and a small variety of restaurants in Kigali, and a busy market offering crafts and other souvenirs. There isn't much in the way of nightlife in Kigali; however there are a few bars and nightclubs.
Kigali's location makes it a convenient stop on multinational treks, with good road links to cities in Uganda, Tanzania, and Burundi. Kigali also makes a good base for arranging excursions to Parc National des Volcans, home of Dian Fossey's research station and grave.
Become our Kigali Travel Expert
We are looking for contributors for our Kigali travel guide. If you are a local, a regular traveller to Kigali or a travel professional with time to contribute and answer occasional forum questions, please contact us.
Africa Miracles specialises in tailor-made holidays to Rwanda. Travel to the website and find information on Rwanda and suggested itineraries.
ADVERTISEMENT
---