Jeddah Travel Guide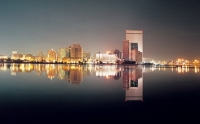 Jeddah skyline from the Red Sea, Saudi Arabia © Meshal Obeidallah
As the main point of entry, by air and sea, to Saudi Arabia, the flashy city of Jeddah is more cosmopolitan than Saudi's capital, Riyadh. Hundreds of thousands of Muslim pilgrims making the traditional pilgrimage to the holy cities of Mecca and Medina, pass through two enormous, futuristic special terminals with a fibre-glass tent-shaped roof at the international airport during the Hajj season. Other visitors are few and far between, since Saudi Arabia has extremely strict entry requirements.
Those who do gain entry to this splendid modern metropolis are rewarded with experiencing a city where luxury is the norm. Fabulous seven-star palatial hotels give on to wide boulevards, encircling the ancient central old city, Balad, filled with colourful souks (bazaars) and mysterious medieval buildings built of Red Sea coral.
The Red Sea shoreline is lined with a seemingly never-ending corniche, giving on to beautiful sandy beaches. Jeddah's restaurants and shopping malls are legendary. One of the unmissable sights in Jeddah is the King Fahd Fountain in the harbour, which is spectacular at night when it sends illuminated coloured jets of water 853 feet (260m) into the air.
Jeddah is named in honour of the Biblical Eve. 'Jadda' means 'grandmother' in the context of Eve, who according to legend is buried near the historical old city, although the actual site of the tomb is not marked by the Saudi Government.
Become our Jeddah Travel Expert
We are looking for contributors for our Jeddah travel guide. If you are a local, a regular traveller to Jeddah or a travel professional with time to contribute and answer occasional forum questions, please contact us.