Transkei Travel Guide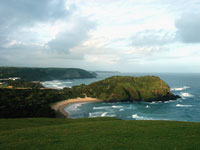 Coffee Bay © Jon Rawlinson
The region of the Eastern Cape, which used to be called the Transkei and usually is still is identified as such by South Africans, was formerly a Bantustan. A Bantustan was set aside exclusively for the use of a black ethnic group during apartheid, supposedly to be governed independently by its population.
The region has a tumultuous and sad political history and remains a mostly rural area where poverty is still rife. However, it is an area of spectacular natural beauty which is popular with adventurous travellers looking for an experience of unspoilt landscapes and authentic rural culture.
The main attraction is the Wild Coast, which, as the name suggests, is remarkably undeveloped. It has near pristine stretches of coastline where rolling hills, grassland, and forest grow right onto the beach.
Accommodation tends to be rustic, with the most famous venues being isolated camping and backpacking communities. This makes the Transkei an ideal South African destination for young budget travellers and backpackers. It is also a wonderful surfing destination, with some gorgeous surf breaks that are never crowded and often kept secret. Just watch out for sharks.
East London is a good starting point for a journey into the Transkei. There are a few tour operators offering bus services through the region, but apart from this, the only way to get around is by hiring a car and road tripping.
Bear in mind that although this is a wonderful way to explore, the infrastructure is awful and the roads can be really challenging, with animals like cows, donkeys, and dogs crossing the streets, huge potholes, and virtually no signposts. For confident drivers, this is all part of the adventure. But travellers shouldn't expect to get anywhere fast in the Transkei.
Become our Transkei Travel Expert
We are looking for contributors for our Transkei travel guide. If you are a local, a regular traveller to Transkei or a travel professional with time to contribute and answer occasional forum questions, please contact us.