Lucerne Travel Guide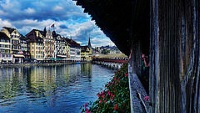 Luzern © Mariano Mantel
Being one of the first European cities to capitalise on tourism does not mean that picturesque Lucerne has become a crowded Disneyland spectacle of everything archetypically Swiss. Located in the heart of the country, it is indeed the embodiment of everything that is cute, scenic and stylish about Switzerland, though in a very charming way.
Set on the northwestern end of Lake Lucerne and surrounded by mountain views, Luzern is split by the River Reuss. On either side of the river lie atmospheric medieval squares, cobbled alleys, quaint frescoed houses, churches and public buildings. Surprisingly, the historic setting attracts many young people, who ensure that its nightlife is lively and varied. Just outside the city limits, the attractions of every Swiss picture postcard beckon, from Alpine villages to meadows where lazy cows toll their bells against the backdrop of snow-covered mountains.
There is plenty to enjoy in this tourist city, from taking a pedalo (pedal boat) out on the lake, to posing for photographs on the famous wooden Chapel Bridge, exploring museums and admiring the sad Lion Monument carved into a natural rock wall.
While the Swiss may have a reputation for being sedate, Lucerne disproves this point with its major annual event, the Lucerne Fasnacht, a crazy carnival which erupts for a week leading up to Shrove Tuesday. Revellers in fancy dress and teams of samba bands fill the streets day and night in this week-long extravagant party which is not for the faint-hearted.
No one contemplating a Grand Tour of Europe dare admit they missed out on the traditional tourist spectacle of Luzern, which even enchanted Queen Victoria when she visited, allegedly under an assumed name, and to see whether this sublime city lived up to its great expectations.
Become our Lucerne Travel Expert
We are looking for contributors for our Lucerne travel guide. If you are a local, a regular traveller to Lucerne or a travel professional with time to contribute and answer occasional forum questions, please contact us.