Chiang Rai Travel Guide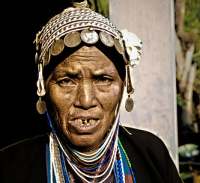 Nestled into the lush mountains of northernmost Thailand, Chiang Rai surrounds its visitors in hill tribe culture and scenery. One of the most famous and exotic attractions in Thailand, Chiang Rai is home to the remote hill tribe communities that make up about 10 percent of Thailand's population. Scattered through the mountains and valleys of the province, the tribes are descendents of nomadic peoples from Tibet and southern China. Each tribe is unique, with its own colourful culture and traditions.
An 11-hour bus ride from Bangkok can leave many visitors looking to relax; fortunately they can, either by picking through hill tribe crafts in the Chiang Rai Night Bazaar, relaxing along the shore of the Mae Kok River or taking a look-out residence in the many hilltop guesthouses.
Many travellers arrive in Chiang Rai from Chiang Mai to begin their treks to hill tribe villages, but there is plenty to see and do in Chiang Rai itself, including visiting a number of beautiful temples and interesting museums. Chiang Rai has some good shopping opportunities, including several weekend markets, while good restaurants and food stalls offer a taste of northern Thai cuisine. The city also has a lively, if not endless, nightlife, with a few good bars and pubs hosting live music.
Become our Chiang Rai Travel Expert
We are looking for contributors for our Chiang Rai travel guide. If you are a local, a regular traveller to Chiang Rai or a travel professional with time to contribute and answer occasional forum questions, please contact us.