Tunis Travel Guide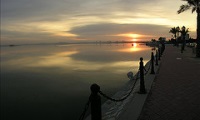 Tunisia © Dennis Jarvis
Tunisia's capital and largest city, Tunis stretches along the coastal plains and surrounding hills of the Gulf of Tunis. Steeped in a rich and fascinating history, Tunis is home to the famous ruins of Carthage, the ancient enemy of the Romans. The ruins are a UNESCO World Heritage Site and popular tourist attraction dating back to the fourth century BC. Tunis has witnessed the passage of the Phoenicians, Romans, Vandals, Byzantines, Turks, Spanish, and French over the last 3,000 years.
Other attractions in the city include the National Museum of Bardo which tells the stories of Tunisia's history from the Phoenicians right through to modern-day times, while the old Medina in the centre of Tunis co-exists with the modern architecture of the new city (Ville Nouvelle), linked by labyrinths of alleys and covered passages infused throughout by the magical aromas, vibrant colours, and sounds of bustling souks.
The modern city of Tunis is located just through the Sea Gate (Bab el Bahr) which has remained unchanged since it was erected in 1848. It is where the grand Avenue Habib Bourguiba, seen as the Champs-Élysées of Tunisia, crosses through the middle. Colonial architecture can be found here illustrating the history of this culturally diverse and historic city.
The spicy foods and flavours of local dishes may blow the socks off of some tourists. But to others, the fragrant heat of the fiery red chilli paste known as harissa is an essential accompaniment to one's Tunis experience, while the Tunisian coffee, much like the Turkish variety, is world-renowned for its rich flavours and energising properties.
Become our Tunis Travel Expert
We are looking for contributors for our Tunis travel guide. If you are a local, a regular traveller to Tunis or a travel professional with time to contribute and answer occasional forum questions, please contact us.
iExplore designs made-to-order, privately-guided adventure tours to Tunisia and over 200 other world wonders. Come Back Different!
ADVERTISEMENT
---