Montevideo Travel Guide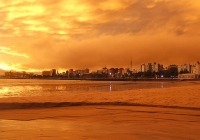 Montevideo Skyline © Vince Alongi
Located on the north shore of the Rio de la Plata, Uruguay's vibrant, eclectic capital blends Old World charm with latter-day style in an unforgettable way. Visitors will discover a laidback destination of glorious beaches, leafy plazas, colourful buildings and splendid colonial structures, where adventure awaits.
A trip to Montevideo's Ciudad Vieja (Old Town) makes an excellent opening chapter to a stay in the capital. An elegant district of narrow cobblestoned streets and colonial buildings, it's home to both Spanish and Portuguese influences, and its fascinating museums are well worth visiting. The city's beautiful beaches, cosy tango bars, elegant old theatres and countless pavement cafes provide delightful changes of pace and, as Uruguay is renowned for the quality of its beef, foodies must eat at one of Montevideo's barbeque restaurants.
Become our Montevideo Travel Expert
We are looking for contributors for our Montevideo travel guide. If you are a local, a regular traveller to Montevideo or a travel professional with time to contribute and answer occasional forum questions, please contact us.