United States of America

---

---

---

---
Cascade Mountain Range Travel Guide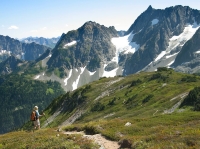 North Cascades National Park © Daniel Hershman
The Cascade Mountain Range (known locally as the Cascades) is a breath-taking range of peaks that extend from the northern tip of California into southern British Columbia. The mountains are a veritable paradise for outdoor sports like hiking, rock climbing, skiing, camping, boating, and canoeing, and many others.
The tallest peak in the Cascades is Mount Rainier, which stretches up 14,411 feet (4,392m) above sea level. While climbing Mount Rainier is considered very difficult, the peak offers other activities and is one of the most-photographed mountains in the US. Mount Adams is another peak that is intimidating to novice climbers.
The most famous peak in the Cascades, however, is Mount St Helens, an active volcano that famously erupted in 1980, killing 57 people. The Mount St. Helens National Volcanic Monument explores the event.
Only a few hours' drive from Seattle, the Cascades are a wonderful place to relax and enjoy nature on any Washington holiday. The pristine wilderness and abundant animal life will rejuvenate anyone who needs to escape the city.
Become our Cascade Mountain Range Travel Expert
We are looking for contributors for our Cascade Mountain Range travel guide. If you are a local, a regular traveller to Cascade Mountain Range or a travel professional with time to contribute and answer occasional forum questions, please contact us.