Reggae Marathon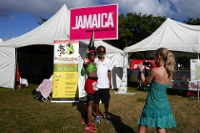 Reggae Marathon © ActiveSteve
Every year, Jamaica plays host to the well-attended Reggae Marathon. The course is a world-class run along some of Negril's finest white sandy beaches. The island marathon has a sound system rigged up along the race route, playing reggae music to encourage participating athletes.
There is a full marathon, a half marathon, and a 10k as well as lots of less athletic events for those who think reggae is still best paired with drinking and relaxing. Spectators can sit back and enjoy the scenery as runners tour the island after a traditional Rastafarian welcome at the start. The Finish Line Beach Bash is also not to be missed.
The course is mainly flat but the difficulty level increases slightly as running on sand is rather strenuous and hard. International competitors should be prepared for the heat and hydrate well as December is hot in Jamaica.
Venue: Seven Mile Beach, Negril
Date: TBC December 2021
Website: www.reggaemarathon.com