Tokyo International Film Festival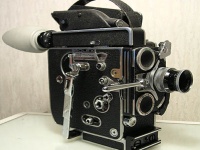 A 16 mm spring-wound Bolex © Janke
Each year, the Tokyo International Film Festival exclusively screens new and exciting films in cinemas around Roppongi Hills. Film buffs enjoy world premieres by both the world and Japan's top directors and filmmakers, as well as vote for a favourite film in the Audience Choice category.
The festival was established in 1985, with annual events organised after 1991. It is one of Asia's most famous and competitive film festivals and accredited by the FIAPF, the International Federation of Film Producers.
The Tokyo Sakura Grand Prix remains the most coveted award, handed out to the winner of the best film. Other categories on the list are best actor, best actress, and best director, among others. Recent winners have included international productions as well as Hollywood stars like Helena Bonham Carter and Glen Close.
The festival has conventional screenings, fun open-air cinema, screenings with voiceovers, social occasions, and celebrity appearances, as well as lectures, seminars, and workshops. Movie enthusiasts will have lots to learn and lots to enjoy.
Venue: Roppongi Hills
Date: TBC 2021
Website: www.tiff-jp.net