Malta Jazz Festival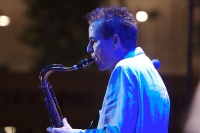 Ian Ritchie at the Malta Jazz Festival © Paul Zammit Cutajar
Every year, a number of world-renowned jazz musicians gather in Valletta to entertain enthusiasts with a classy selection of live performances. The Malta Jazz Festival has been running for about 25 years, enjoying much critical acclaim and great support from locals and foreigners alike.
The event occurs annually during the third weekend of July and the main venue is the open-air Ta'Liesse in Valletta. The programme includes an array of the best contemporary jazz artists and the festival is fun for both the uninitiated and aficionados. In fact, it is a wonderful way to learn a bit about the genre.
In the past, performances have included some famous jazz musicians such as John Scofield, Al Di Meola, and Dee Dee Bridgewater. The days preceding and following the festival show off a number of fringe events, including open-air concerts, and are held in venues all over the city. For more information, check the official website.
Venue: Grand Harbour, Valletta
Date: TBC 2020
Website: www.maltajazzfestival.org